DL-18 blaster pistol
Talk

11
110,086pages on
this wiki
DL-18 blaster pistol
Production information
Manufacturer
Model

DL-18

Type
Cost

500

Physical and technical specifications
Size

Small

Weight

1 kg

Capacity

100 shots per power pack

Usage and history
Era(s)
Affiliation
The BlasTech DL-18 blaster pistol was an inexpensive blaster commonly used during the time of the Galactic Civil War.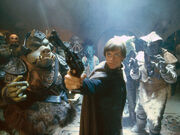 As a result of the inexpensive price, members of the Rebel Alliance often carried DL-18s and Sith Shadows favored them when carrying out raids as it was essentially a disposable weapon. The pistol generated only average power, and had some difficulty penetrating stormtrooper armor. It was manufactured in the same series as the more powerful DL-44 heavy blaster pistol. A very basic design which thrived throughout the galaxy for decades, the DL-18 balanced multiple virtues and could be easily customized to the wielder's preferences. Its chief competitors were Merr-Sonn's Model 44 and DD6.
A DL-18 measured about 1 kg in weight.
Weapons of this make were common on Tatooine (several of Jabba the Hutt's skiff guards used DL-18 pistols), especially in the infamously violent city of Mos Eisley; hence, the model was sometimes nicknamed the "Mos Eisley Special".
Behind the scenes
Edit
The Rebel Alliance Sourcebook and Arms & Equipment Guide both feature incorrect images of the DL-18. The correct, canonical image is sometimes referred to informally as a "Skiff guard pistol" and can be seen clearly in Star Wars Episode VI: Return of the Jedi.
Appearances
Edit