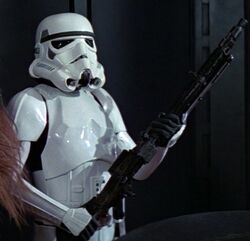 The DLT-19 heavy blaster rifle was a model of blaster rifle manufactured by BlasTech Industries. They were used by stormtroopers of the Galactic Empire,[1] as well as by the bounty hunter Dengar, and some heavy troopers of the Alliance to Restore the Republic.[2] It featured a high rate of fire and could deal heavy damage at long ranges, and was most commonly used for pinning down troops and eliminating large groups of enemies.[2] There existed two variations of the DLT-19, the DLT-19x targeting blaster[2] and the DLT-19D heavy blaster rifle.[3]
Behind the scenes
Edit
The DLT-19 heavy blaster rifle was based on the MG 34.[4]
Appearances
Edit
Non-canon appearances
Edit
Notes and references
Edit
Ad blocker interference detected!
Wikia is a free-to-use site that makes money from advertising. We have a modified experience for viewers using ad blockers

Wikia is not accessible if you've made further modifications. Remove the custom ad blocker rule(s) and the page will load as expected.