Dagger-class starfighter
Talk

16
107,694pages on
this wiki
Dagger-class starfighter
Production information
Manufacturer
Model

Dagger-class starfighter[1]

Class
Cost

35,000 credits (8,000 used)[1]

Technical specifications
Length

14.8 meters

Maximum speed (atmosphere)

1,000 km/h[1]

Hyperdrive rating

Class 2[3]

Shielding

None[1]

Navigation system
Armament

Laser cannons (3)[1]

Crew
Passengers

None[1]

Cargo capacity

55 kg[1]

Consumables
Usage
Availability

Restricted[1]

Role(s)

Space superiority fighter

Era(s)
Affiliation
The Dagger-class starfighter was a fighter craft designed by Republic Sienar Systems and produced in large numbers around the time of the Battle of Naboo.
Characteristics
Edit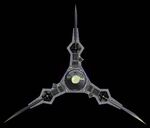 The Dagger starfighter had a triple wing design. The wings were in the shape of knives, giving it the name Dagger. The whole craft rotated around the cockpit in flight, while the cockpit maintained the same position. The laser cannons were on the hull, next to where the wings connected.
The fighter was small, fast, maneuverable, had extensive weaponry and was relatively cheap. However, it lacked life support system, deflector shields or gravity compensators and as such a Pilot had to rely on his own skill in order to survive a battle.[1]
It also bore a resemblance to the TIE Phantom and V38 assault fighter.
The fighters were produced by thousands prior to the Clone Wars. The majority were purchased by planetary defense forces, while the rest found their way into the hands of mercenary organizations. Daggers were also used in an attack on a Naboo freighter convoy above Naboo.[4] In 32 BBY,[5] Rhys Dallows and Vana Sage were forced to contend with these craft during their attempts to protect Naboo; the Trade Federation had recruited a mercenary organization whose jobs involved such things as an attempted kidnapping of Queen Amidala. Daggers were in the first three waves of the assault force in the assassination attempt.[4]
With the advent of the Clone Wars, numerous Daggers were found in the planetary fleets of Separatist worlds. The production of the fighter stopped with the rise of the Galactic Empire and Palpatine's disbanding of Republic Sienar. The successor company Sienar Fleet Systems borrowed a number of elements of the Dagger in their initial design of the TIE series. The design was later used for the V38 assault fighter and the TIE Phantom.
Behind the scenes
Edit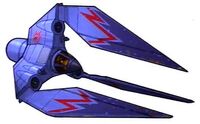 Dagger starfighters first appeared in the
2001
video game
Star Wars: Starfighter.
They later appeared in the game's
2002
sequel,
Star Wars: Jedi Starfighter
in the bonus missions.
Appearances
Edit
Notes and references
Edit
↑ 3.0 3.1  Clone Wars Campaign Guide errata on Wizards.com (backup links 1 2 on Archive.org)
↑ The New Essential Chronology establishes on page 40 that the Invasion of Naboo happens in 32 BBY.