Dagrus Rhine
Talk

0
107,694pages on
this wiki
Dagrus Rhine
Biographical information
Homeworld
Physical description
Species
Gender
Chronological and political information
Era(s)
Affiliation
"I'll slow things down as much as I can. Now get out of here before someone spots you."
―Dagrus Rhine
Dagrus Rhine was a corrupt officer of the Royal Naboo Security Forces.
Rhine was bribed several times by local criminal Kritus Morven. When Morven learned that the Royal Security Forces had started to search for his spice refineries, Morven tasked a spacer with delivering an authorization of credits to Rhine. In return, Rhine slowed the search down as much as he could, giving Morven the time to evacuate his refinery before it could be discovered.
Behind the scenes
Edit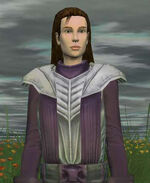 Dagrus Rhine was a non-player character (NPC) in Star Wars Galaxies. He would spawn somewhere outside of Keren during Kritus Morven's third mission.
Due to the nature of many older quests in Star Wars Galaxies, the appearance of Dragus Rhine changed each time a player performed this quest. However, the quest dialogue given by Kritus Morven indicated that Dagrus Rhine was a male. Furthermore, this article assumes that Dagrus Rhine was a Human, because in this particular quest Dagrus Rhine consistently spawned as such. This differed from other quests in the game in which a quest character's species could be random. However, the appearance for dynamically spawned Royal Security Force personnel was limited only to the Human species.
Appearances
Edit