Ad blocker interference detected!
Wikia is a free-to-use site that makes money from advertising. We have a modified experience for viewers using ad blockers

Wikia is not accessible if you've made further modifications. Remove the custom ad blocker rule(s) and the page will load as expected.
Daniel Wallace has written many Star Wars books including several in the Essential Guide series and several sourcebooks for the Star Wars Roleplaying Game.
Biography
Edit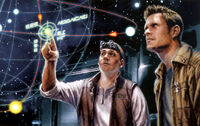 In the mid-90s, Daniel was a participant in the FidoNet Star Wars Echo.
Daniel received an advertising degree from Michigan State University, and currently uses that degree with one of the world's largest advertising agencies. In 2006, he began pursuing a MBA degree at Wayne State University.
He currently lives in Minneapolis.
Star Wars bibliography
Edit
| Title | Part of | Format | Date |
| --- | --- | --- | --- |
| The Great Herdship Heist | Star Wars Adventure Journal 15 | Short story | November 1997 |
| The Bounty Hunter's Comic Book Career | Star Wars: Boba Fett | Article | April 1998 |
| The Essential Guide to Planets and Moons | | Reference guide | July 1998 |
| Anakin Skywalker: The Story of Darth Vader | | Reference guide | October 1998 |
| The Essential Guide to Droids | | Reference guide | February 1999 |
| Star Wars Episode I What's What | | Reference guide | June 1999 |
| C-3PO: Tales of the Golden Droid | | Reference guide | September 1999 |
| The Essential Chronology (with Kevin J. Anderson) | | Reference Guide | April 2000 |
| Fair Prey | Star Wars Gamer 1 | Short story | September 2000 |
| The Monster | Star Wars Gamer 2 | Short story | November 2000 |
| University of Sanbra Guide to Intelligent Life: The Anx (with Craig Robert Carey, Jason Fry) | Star Wars Gamer 7 | Magazine article | November 2001 |
| I, Yuuzhan Vong | Star Wars Gamer 8 | Magazine article | January 2002 |
| University of Sanbra Guide to Intelligent Life: The Priapulin (with Craig Robert Carey, Jason Fry) | Star Wars Gamer 8 | Magazine article | January 2002 |
| Race for the Tessent (with Craig Robert Carey, Jason Fry) | Star Wars Gamer 9 | Magazine article | March 2002 |
| University of Sanbra Guide to Intelligent Life: The Nosaurians (with Craig Robert Carey, Jason Fry) | Star Wars Gamer 9 | Magazine article | March 2002 |
| University of Sanbra Guide to Intelligent Life: The Clawdites (with Craig Robert Carey, Jason Fry) | Star Wars Gamer 10 | Magazine article | April 2002 |
| The New Essential Guide to Characters | | Reference guide | April 2002 |
| Who's Who in the Imperial Military | Star Wars Gamer | Magazine article | (canceled) |
| The Creatures of Episode II | Star Wars Insider 63 | Magazine article | November 2002 |
| Coruscant and the Core Worlds with (Craig Robert Carey, Jason Fry, Paul Sudlow) | | Roleplaying accessory | January 2003 |
| Who's Who: Imperial Grand Admirals (with Abel G. Peña) | Star Wars Insider 66 | Magazine article | March 2003 |
| Geonosis and the Outer Rim Worlds with (Craig Robert Carey, Jason Fry, Jeff Quick, Jeffrey Quinn) | | Roleplaying accessory | March 2004 |
| The Unseen Planets of Episode II | Star Wars Insider 80 | Magazine article | March 2005 |
| Byss and the Deep Core (with Rodney Thompson) | www.wizards.com | Web article | April 2005 |
| The Starships of Episode III | Star Wars Insider 82 | Magazine article | May 2005 |
| The Story of Anakin | Vader: The Ultimate Guide | Magazine article | July 2005 |
| Ground Assault | Star Wars Insider 83 | Magazine article | July 2005 |
| Republic HoloNet News Special Inaugural Edition 16:5:24 (with Pablo Hidalgo) | Star Wars Insider 84 | Magazine article | September 2005 |
| Lurking In The Shadows: The Creatures of Episode III | Star Wars Insider 84 | Magazine article | September 2005 |
| The New Essential Chronology | | Reference guide | October 2005 |
| Who's Who in the Delegation of 2000 | Star Wars Insider 85 | Magazine article | November 2005 |
| Star Wars: The Comics Companion | | Reference guide | January 2006 |
| Yoda's Right Arm | Star Wars Insider 86 | Magazine article | February 2006 |
| The New Essential Guide to Droids | | Reference guide | June 2006 |
| Aliens of Episode III | Star Wars Insider 90 | Magazine article | September 2006 |
| Sculpting History | Star Wars Insider 90 | Magazine article | September 2006 |
| Begin the Dark Times | Star Wars Insider 90 | Magazine article | September 2006 |
| The Essential Expanded Universe | Star Wars Insider 101 | Magazine article | May 2008 |
| Castaways of Endor (with Amy Pronovost) | Hyperspace | Web article | December 2008 |
| The Essential Atlas | | Reference guide | August 2009 |
| Star Wars Year by Year: A Visual Chronicle (with Pablo Hidalgo, Gus Lopez, Ryder Windham) | | Reference guide | August 2010 |
| The Jedi Path: A Manual for Students of the Force | | Reference guide | September 2010 |
| Star Wars: Battles for the Galaxy | | Reference guide | April 2011 |
| Darth Vader: A 3-D Reconstruction Log | | Reference guide | October 2011 |
| Book of Sith: Secrets from the Dark Side | | Reference guide | February 2012 |
| The Essential Characters | | Reference guide | (canceled) |
| The Bounty Hunter Code: From the Files of Boba Fett | | Reference guide | October 2013 |
| Star Wars Rebels: Rebel Journal by Ezra Bridger | | Character journal | October 2014 |
| Sabine My Rebel Sketchbook | | Character journal | February 2015 |
| Ultimate Star Wars (with Ryder Windham, Tricia Barr, and Adam Bray) | | Reference guide | April 2015 |
External links
Edit