Ad blocker interference detected!
Wikia is a free-to-use site that makes money from advertising. We have a modified experience for viewers using ad blockers

Wikia is not accessible if you've made further modifications. Remove the custom ad blocker rule(s) and the page will load as expected.
Daniel Keys Moran (aka DKM, born November 30, 1962) is a computer programmer and a science fiction writer, most famous for his own fiction series, the Tales of the Continuing Time. He has been the administrator of a number of websites and currently maintains the Daniel Keys Moran blog.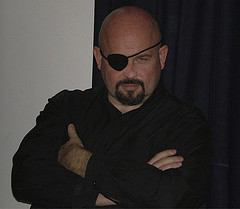 His Star Wars writing consisted of three short stories:
Published under the pseudonym J. D. Montgomery. — Editorial changes that were unacceptable to me were made to 'A Barve Like That,' which is why the 'J. D. Montgomery' pseudonym, but on balance it is perhaps not a bad story, and I won't disown it if people understand that the final product is only perhaps 80% mine. —DKM
I like my story. It's long enough to let me tackle a couple of characters—Solo and Boba Fett—in something approaching depth; and Lucasfilm messed with me less on this story than on either of the two previous. —DKM
External links
Edit