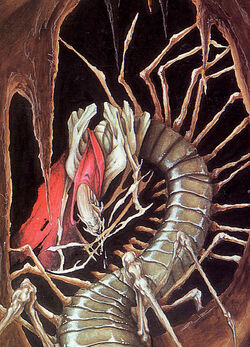 DarkStryder, true name unknown, was a living supercomputer created by the Kathol to protect the remains of their civilization, the Lifewell.
A fifteen meter-tall insectoid, DarkStryder's true name was pronounceable only by the ancient Kathol. The creature guarded the Lifewell for millennia, creating a massive fortress and legions of insectoid servants.
Eventually, DarkStryder desired to leave Kathol, and made a deal with Moff Kentor Sarne, whereby DarkStryder would provide Sarne with so-called "DarkStryder technology," while Sarne would give the creature a single, hyperdrive-equipped starship. But Sarne had no intentions of following through with his bargain, realizing the power of the creature.
Sarne and DarkStryder engaged in this deadly game until the FarStar arrived. The ship's crew succeeded in opening the Lifewell, which set the Kathol free and destroyed DarkStryder.
External links
Edit
Ad blocker interference detected!
Wikia is a free-to-use site that makes money from advertising. We have a modified experience for viewers using ad blockers

Wikia is not accessible if you've made further modifications. Remove the custom ad blocker rule(s) and the page will load as expected.