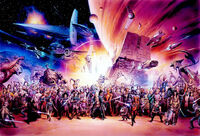 The Dark Horse Celebration IV poster is a poster distributed by Dark Horse Comics at Celebration IV. On the front is an illustration by Tsuneo Sanda featuring 110 characters, animals, and vehicles from Dark Horse's line of Star Wars comics. On the back is a key identifying all of them and a timeline of Dark Horse comics. The picture was made for Star Wars: Panel to Panel Volume 2: Expanding the Universe.
Ad blocker interference detected!
Wikia is a free-to-use site that makes money from advertising. We have a modified experience for viewers using ad blockers

Wikia is not accessible if you've made further modifications. Remove the custom ad blocker rule(s) and the page will load as expected.