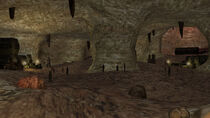 The Darklighter cache, also known as the Darklighter cave, was a cave located on the planet Tatooine. Located near the Darklighter estate, it was used by the Darklighter family as a cache. Sometime following the Battle of Yavin in 0 BBY, the cave was overtaken by Desert Demons. Draci, the guard of the cache, tasked a spacer with clearing the cave and accessing its five inventory terminals in under fifteen minutes. The spacer succeeded, thus effectively restoring the cache for the Darklighters. Around the same time, the sadistic EV-series supervisor/interrogator droid EV-9D9 tasked an individual with destroying three droids located within the cave. These included an R3-series astromech droid named R3-B57, a B1 battle droid named BD-34, and an RA-7 protocol droid named RA-316.
Appearances
Edit
External links
Edit
Ad blocker interference detected!
Wikia is a free-to-use site that makes money from advertising. We have a modified experience for viewers using ad blockers

Wikia is not accessible if you've made further modifications. Remove the custom ad blocker rule(s) and the page will load as expected.