"Da fourth bein' in da Darkwalker cave near Dee'ja Peak."
―Boss Rugor Nass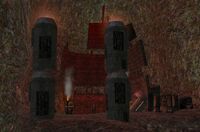 The Darkwalker Cave was a cave located a very short distance south of the city of Dee'ja Peak on the Mid Rim world of Naboo. The cave was under the control of a criminal organization known as the Darkwalkers. Among the cave's occupants included important Darkwalker members, including Bloodlord Trienial and a scientist by the name of Flangolial. Sometime following the Battle of Yavin in 0 BBY, a spacer sent by Boss Rugor Nass entered the cave to retrieve a piece of a stolen Gungan artifact.[1]
Behind the scenes
Edit
The Darkwalker Cave was a location in the 2003 massively multiplayer online-role playing game Star Wars Galaxies: An Empire Divided, prior to the game's closure on December 15, 2011.[1][2]
Appearances
Edit
Notes and references
Edit