The Double-bladed Darth Phobos lightsaber was a saberstaff used by the Theelin Sith Lord Darth Phobos during her life.
By 1 ABY, the technical readout of the double-bladed lightsaber that Phobos had used during her life came into possession of the Alliance to Restore the Republic. Alliance Staff Sergeant Levardio, stationed on the Zephyr Base on Rori, the moon of the planet Naboo, offered the readout for sale to Rebels who performed valiantly on the battlefields of the Galactic Civil War, allowing the buyer to create their own replica of Phobos' lightsaber after acquiring all the necessary resources.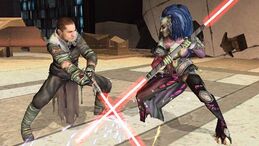 Appearances
Edit
External links
Edit
Ad blocker interference detected!
Wikia is a free-to-use site that makes money from advertising. We have a modified experience for viewers using ad blockers

Wikia is not accessible if you've made further modifications. Remove the custom ad blocker rule(s) and the page will load as expected.