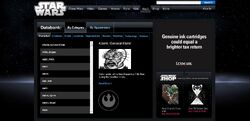 The Databank, formerly found on StarWars.com, was in its time the only official Star Wars database available to the public. Entries were sorted alphabetically within several categories. Each entry was split into three sections, wherever it was applicable: the first described things as seen in the films (if at all), the second explored additional information from the Expanded Universe, and the third looked behind the scenes.
Most entries were written by Pablo Hidalgo. The What's The Story? feature of Hyperspace allowed fans to write Databank entries on the more obscure characters, vehicles, species and locations of the saga.[1]
Following the official Star Wars site's overhaul on September 13, 2011, the Databank was replaced by the Encyclopedia feature, with all original Databank entries removed following the revamping.
Characters
Creatures
Droid models
Locations
Organizations and titles
Sentient species
Vehicles and vessels
Weapons and technology
Miscellanea
April Fools' Day entries
On April 1, 2006, StarWars.com added a few entries meant as a joke, which seemed to make the Willow universe part of the Star Wars continuity.
On April 1, 2007, Indiana Jones and THX 1138 were added to the list of characters in the "Character Archive" section. Instead of a Databank entry, the links pointed to the official websites for the Indiana Jones series and for the film THX 1138, respectively.
Notes and references
Edit
External links
Edit
Ad blocker interference detected!
Wikia is a free-to-use site that makes money from advertising. We have a modified experience for viewers using ad blockers

Wikia is not accessible if you've made further modifications. Remove the custom ad blocker rule(s) and the page will load as expected.