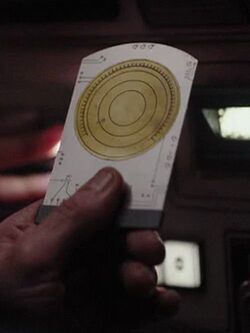 A datacard or data disk was a flat shaped device used to transfer information. During the Battle of Scarif, the Death Star plans stolen by Rogue One were beamed to the Profundity, where they were transferred to a datacard. The card was given to Princess Leia Organa[1] who later tried to deliver the plans to Obi-Wan Kenobi on Tatooine. When her ship fell under attack from the Imperial I-class Star Destroyer Devastator, she stored the datacard into the memory banks of R2-D2, shortly after recording a message for Kenobi.[2]
Behind the scenes
Edit
Datacards feature as an in-game resource, containing characters and other materials, in the non-canon video game Star Wars: Galaxy of Heroes, ranging from Bronzium to packs of Chromium and the most expensive Aurodium.
Appearances
Edit
Non-canon appearances
Edit
Notes and references
Edit
Ad blocker interference detected!
Wikia is a free-to-use site that makes money from advertising. We have a modified experience for viewers using ad blockers

Wikia is not accessible if you've made further modifications. Remove the custom ad blocker rule(s) and the page will load as expected.