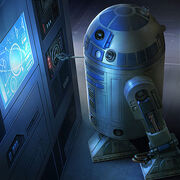 "Plug yourself into that wall socket so I can talk with our master again...."
―C-3PO
Dataports were information ports accessible by droids and used to upload or download information. They were usually wall-mounted, but they could be part of a table or desk. One of the components of a dataport was the wall socket, which was the part of a computer terminal that a scomp link could plug into.
Appearances
Edit
Ad blocker interference detected!
Wikia is a free-to-use site that makes money from advertising. We have a modified experience for viewers using ad blockers

Wikia is not accessible if you've made further modifications. Remove the custom ad blocker rule(s) and the page will load as expected.