The Dauntless-class heavy cruiser was the second largest cruiser that saw service with the Rebel Alliance fleet during the course of the Galactic Civil War.
Characteristics
Edit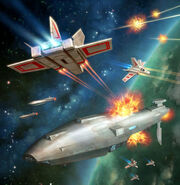 The class featured a formidable array of weapons, heavy plating, and strong shields. It also featured an excellent sensor package and countermeasures system.[1]
The Dauntless-class was developed from a series of SoroSuub Corporation-produced luxury liners that had been converted into warships.[1] The cruiser was a sleek, battle-ready platform which served on the front line of many space battles during the course of the Galactic Civil War and even into the Yuuzhan Vong War.[3]
The Endor was a Dauntless-class cruiser that served with the New Republic, and was destroyed in 13 ABY.[2]
Appearances
Edit
Notes and references
Edit
Ad blocker interference detected!
Wikia is a free-to-use site that makes money from advertising. We have a modified experience for viewers using ad blockers

Wikia is not accessible if you've made further modifications. Remove the custom ad blocker rule(s) and the page will load as expected.