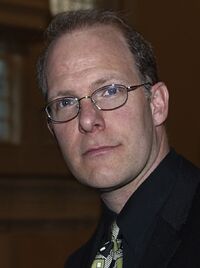 Dave Seeley is an artist who has created cover art for a number of Star Wars novels including MedStar I: Battle Surgeons, MedStar II: Jedi Healer, The New Jedi Order: Enemy Lines I: Rebel Dream, The New Jedi Order: Enemy Lines II: Rebel Stand and Luke Skywalker and the Shadows of Mindor. The last one was originally created as an exclusive piece titled Rogue Leader for Celebration 4. In addition, he has also done a series of four space battles for WotC Star Wars Minifigures packaging, and four interiors for the Star Wars Essential Guide to Warfare.
Star Wars covers
Edit
External links
Edit
Ad blocker interference detected!
Wikia is a free-to-use site that makes money from advertising. We have a modified experience for viewers using ad blockers

Wikia is not accessible if you've made further modifications. Remove the custom ad blocker rule(s) and the page will load as expected.