Death in the Catacombs
130,377pages on
this wiki
Talk

0
"I didn't set out to be a smuggler…"
"I know all the stories. Did you come from a broken home, are you a rebel against an unjust system, or are you earning the fee to buy your sister out of slavery?"
"Actually, I was a graduate student in Xenoarchaeology at the University of Ketaris. But when the University went bankrupt, it took my academic career with it. From Xenoarchaeology to smuggling is a more direct route than you might think."
"Especially if you cut Ethics class.''"
―Naj Pandoor and Jyl Somtay
"Death in the Catacombs" is a short story written by Mike W. Barr that was originally published in Star Wars Insider 79.
Plot summary
Edit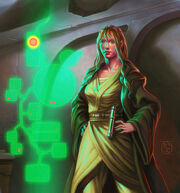 The story takes place a few days after the First Battle of Geonosis. Jyl Somtay, a newly-promoted Jedi, has been assigned the task to wipe out the Geonosian resistance.
One night, she is contacted by Dr. Frayne, a scientist who has been studying the Geonosian culture. The meeting turns out to be a trap, during which Jyl is knocked unconscious.
Appearances
Edit
Characters
Creatures
Events
Locations
Organizations and titles
Sentient species
Vehicles and vessels
Weapons and technology
Miscellanea