Ad blocker interference detected!
Wikia is a free-to-use site that makes money from advertising. We have a modified experience for viewers using ad blockers

Wikia is not accessible if you've made further modifications. Remove the custom ad blocker rule(s) and the page will load as expected.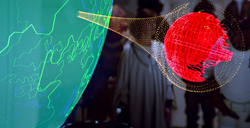 "Sir, we just lost the main rear deflector shield. One more direct hit on the back quarter and we're done for!"
―C-3PO, to Han Solo
Deflector shields, or simply shields, were energy fields that could protect starships,[1] battle stations,[2] ground-based structures,[3] and even armies from enemy assault. Two varieties of deflector shields existed, with ray shields deflecting or scattering energy beams, and particle shields diffusing impacts from high-velocity projectiles and proton weapons. A third type of shield, a concussion shield, repelled space debris and other solid objects. Most starships utilized a combination of ray and particle shielding for maximum protection, while larger ships could require multiple projectors to fully protect the ship, with a shield's intensity gradually diminishing with distance from its projector.[4] Some shields were one-way shields that only allowed a person to come in through the shield, but prevented passage back out through the shield.[5]
Some uses of deflector-shield technology include the Confederacy of Independent Systems' shield around its droid forces during the Battle of Christophsis, preventing the Grand Army of the Republic from attacking until the shield generator was destroyed.[6] The Millennium Falcon, a light freighter, also had a deflector shield,[1] while the Death Star II had a deflector shield powered by a deflector dish on the forest moon of Endor.[2]
Appearances
Edit
Notes and references
Edit