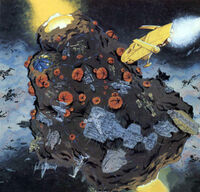 The Desolate was a massive biologically engineered starship in the bizarre dimension of otherspace. It was captained by Ber'asco and contained the Hall of Contests. Used by the Charon, it was amorphous and over 450 meters long. At each end of the ship were caps of mysterious light, while the ship was controlled by a large brain located at its top. After the hyperdrive was linked to the main computer, the ship was able to jump to hyperspace and kill Ber'asco. Crashing into Stronghold, the ship was destroyed, though the Charon survived.
Appearances
Edit
Ad blocker interference detected!
Wikia is a free-to-use site that makes money from advertising. We have a modified experience for viewers using ad blockers

Wikia is not accessible if you've made further modifications. Remove the custom ad blocker rule(s) and the page will load as expected.