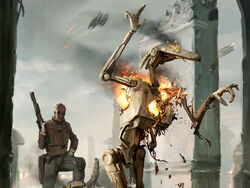 Deuterium was a type of fuel. It was used to power Senator Simon Greyshade's XJ-6 airspeeder. The fuel came packaged in a canister, which provided safe and compact transport.
Deuterium could also be harnessed as a weapon. They could be made into rounds fired from a projectile weapon which exploded on impact with the target. Deuterium was apparently an ingredient in the Deuterium-pyro drink.
Behind the scenes
Edit
In real life, deuterium is a heavy isotope of hydrogen. It is a light, colorless, odorless, flammable gas, and can be used as a fuel, both chemical and fusion.
Appearances
Edit
External links
Edit
Ad blocker interference detected!
Wikia is a free-to-use site that makes money from advertising. We have a modified experience for viewers using ad blockers

Wikia is not accessible if you've made further modifications. Remove the custom ad blocker rule(s) and the page will load as expected.