Devastation of Katarr
Talk

4
110,081pages on
this wiki
"My people never saw his face when he struck—but they heard his voice. When my lord spoke, every living thing on Katarr died. The destruction of Katarr echoed through the Force, the screaming of countless lives."
The Devastation of Katarr was an event of the Old Sith Wars, occurring in 3,952 BBY, and was the first major event of the First Jedi Purge that took place during that time period. That year, the last known hundred members of the Jedi Order had secretly assembled on the planet Katarr, a colony of the Miraluka species, a race who saw through the Force. However, one of the participants, Master Atris, alerted Darth Nihilus to the fact that the Jedi were secretly meeting on Katarr, with the hope that the combined Jedi would be able to overpower him and ensure the cessation of the mysterious attacks on the Jedi.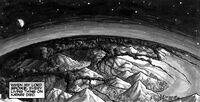 Unfortunately for Katarr, Atris's plan backfired; the Jedi were not aware of the true extent of Nihilus`character, his mere presence combined with an old Sith technique enabled him to devour almost all life on the planet. Of all its living denizens, sentient, flora and fauna, Nihilus spared only one Miraluka woman, Visas Marr, who was subsequently recruited into the Sith as Nihilus's apprentice.
Appearances
Edit
Notes and references
Edit