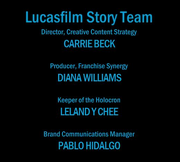 Diana Williams is the Producer of Franchise Synergy at Lucasfilm Ltd. and one of four members of the Lucasfilm Story Group, alongside Pablo Hidalgo, Leland Chee, and Carrie Beck.
Her role on the team was revealed in the credits of Star Wars: The Old Republic: Galactic Starfighter.
Bibliography
Edit
Ad blocker interference detected!
Wikia is a free-to-use site that makes money from advertising. We have a modified experience for viewers using ad blockers

Wikia is not accessible if you've made further modifications. Remove the custom ad blocker rule(s) and the page will load as expected.