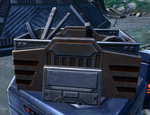 Diatium was a metal substance used in small power cells as early as four millennia BBY.
Lightsabers generally used cylindrical diatium power cells. It was not a very rare mineral, in that it was easy to mine for helpful use. Diatium power cells are capable of storing massive amounts of energy as lightsabers are rarely seen being recharged.
Throughout the time of the Old Republic Diatium was a rather easy mineral to find, but that ease was soon lost due to the excessive mining of this powerful mineral.
Appearances
Edit