"You're ready to play digotto against the great Teemto? Pull the lever!"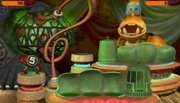 Digotto was a game played with Digit droids. It involved mathematics: the goal was to create the highest, lowest or closest number using the digidroids. The podracer pilot Teemto Pagalies enjoyed playing this game.
Appearances
Edit
Ad blocker interference detected!
Wikia is a free-to-use site that makes money from advertising. We have a modified experience for viewers using ad blockers

Wikia is not accessible if you've made further modifications. Remove the custom ad blocker rule(s) and the page will load as expected.