The discord missile was a missile used by the Confederacy of Independent Systems.
Description
Edit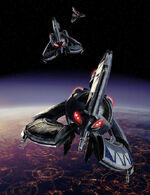 Launched by Vulture droids and droid tri-fighters, each missile contained up to seven buzz droids, which it could release near starfighters. It could outmaneuver and outrun most starfighters and capital ship point-defenses.
Anakin Skywalker managed to "outsmart" two of these missiles during the Battle of Coruscant while on a mission to rescue the Supreme Chancellor. The missile had a powerful rocket engine and an array of maneuvering fins, allowing them to accelerate at over 10,000G. It is identified by its blue trail, leading to the nickname "Blue Streak". Obi-Wan Kenobi's fighter was attacked by buzz droids after two of these missiles released the droids during the battle over Coruscant.
Appearances
Edit
Non-canon appearances
Edit
Notes and references
Edit
↑  "Starships and Vehicles of Revenge of the Sith" on Wizards.com (original article link, backup links)
Ad blocker interference detected!
Wikia is a free-to-use site that makes money from advertising. We have a modified experience for viewers using ad blockers

Wikia is not accessible if you've made further modifications. Remove the custom ad blocker rule(s) and the page will load as expected.