Dodson Makraven (OS-72-2) was the pilot of Obsidian 2 of the Obsidian Squadron in service to the Galactic Empire. He was part of the occupying force that took control of Cloud City from Baron Administrator Lando Calrissian and pursued the Millennium Falcon as it made its escape from the city, flying as Civé Rashon's (OS-72-1) wingman.
Dodson's nickname was "Night Beast" because of his many curfew violations.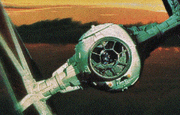 Appearances
Edit
Ad blocker interference detected!
Wikia is a free-to-use site that makes money from advertising. We have a modified experience for viewers using ad blockers

Wikia is not accessible if you've made further modifications. Remove the custom ad blocker rule(s) and the page will load as expected.