Dooku's solar sailer
Talk

0
103,447pages on
this wiki
Dooku's solar sailer
Production information
Model
Class
Technical specifications
Length
Width

4.6 meters[1]

Height/depth

4.8 meters[1]

Maximum acceleration

Sail: approx. 1,00G
Thrusters: 30G[1]

Maximum speed (atmosphere)

1,600 kph[1]

Engine unit(s)
Hyperdrive rating

Class 1.5[1]

Armament

84 narrow tractor/repulsor beams[1]

Other systems
Usage
Role(s)
Era(s)
Earliest sighting
Destroyed
Affiliation
Known owner(s)
Crewmembers
"Your solar sailor is very beautiful. It's a pretty rare ship."
―Hondo Ohnaka
Dooku's solar sailer was a private Punworcca 116-class interstellar sloop belonging to Count Dooku, also known as Darth Tyranus. Dooku used this yacht to escape from First Battle of Geonosis in 22 BBY. Tyranus's vessel was a unique mix of Geonosian engineering and pre-Republic Gree technology. The vessel was piloted by a FA-4 pilot droid and could travel through realspace and hyperspace.
Dooku had this sloop presented to him as a gift from Poggle the Lesser. As of 32 BBY, shortly after joining the Sith Order,[2] Count Dooku had procured a unique ancient "solar" sail from an antiques dealer in the Gree Enclave to add to his sloop. The sail collected an undetectable power source to achieve great speeds with ease unmatched by conventional sails. Archduke Poggle was pleased to have ancient technology augment the sloop, as Geonosis had a long sailing heritage dating back centuries.[1] Fourteen standard days before the First Battle of Geonosis in 22 BBY, the Senate Bureau of Intelligence confirmed eyewitness reports that Dooku had been spotted earlier in the week visiting the Gree Enclave, purportedly in search of valuable antiques.[3][4]
At the beginning of the Clone Wars on Geonosis, Dooku had his solar sailer docked in his hangar. He fled the Battle of Geonosis in it after being waylaid by Jedi Obi-Wan Kenobi, Anakin Skywalker and Yoda. He then rendezvoused with his master, Darth Sidious, at The Works on Coruscant.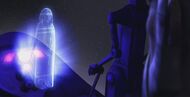 The solar sailer was used by Dooku throughout the Clone Wars as his regular means of travel to significant locations and escape from battles. It at one point sustained damage and crashed on Vanqor after a fiery battle in an attempt to escape from Kenobi and Skywalker as their army attacked his flagship. The pilot droid, along with all equipment on it, was taken apart among a band of Weequay pirates. The leader of the pirates, Hondo Ohnaka, commented on the ship's rarity and expensiveness and called it beautiful. To prevent any unnecessary antagonizing of the pirates, the count told Ohnaka to "feel free to help himself to it," unconcerned with his looting of the vessel at the moment. At some point after he escaped imprisonment in their base on Florrum, Dooku had his solar sailer recovered and repaired.[5]
During the Battle of Coruscant, he met with General Grievous onboard the Invisible Hand after departing Tythe in the vessel.
Appearances
Edit
References
Edit