Dreadnaught
Talk

11
107,711pages on
this wiki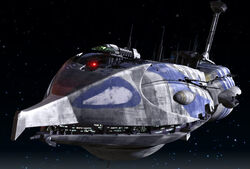 A Dreadnaught or Dreadnought was normally a powerful battleship. In the Anaxes War College System it referred to any ship over 5,000 meters long[1].
The term could refer to the following:
Notes and references
Edit
---
This is a disambiguation page—a navigational aid that lists other pages that might otherwise share the same title. If an article link referred you here, you might want to go back and fix it to point directly to the intended page.
---