Drew Struzan (born 1947) is an artist. He has designed several album covers, book covers, comic covers, movie posters and advertising. Struzan has designed several covers for Dark Horse Comics, and has designed the movie posters for the prequel trilogy of films. Outside of Star Wars, he has also created the theatrical poster art for films such as the Indiana Jones trilogy, the Back to the Future trilogy, and the final cut of Blade Runner. Aside from illustrations for film, he has also worked with Ernie Cefalu of Pacific Eye & Ear on album covers for such bands as Alice Cooper, Black Sabbath, Bee Gees, The Beach Boys, Earth Wind and Fire, Iron Butterfly, Roy Orbison, and many others. Among these, Struzan illustrated the album cover artwork for Alice Cooper's Welcome to My Nightmare, which Rolling Stone Magazine would go on to vote one of the Top 100 Album Covers Of All Time. Despite the burgeoning demand for his talents, however, Struzan was still only earning $150 to $250 per album cover.
Star Wars art
Edit
Film posters
Edit
Book covers
Edit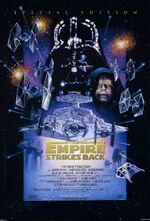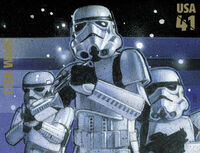 Bibliography
Edit
Notes and references
Edit
External links
Edit
Ad blocker interference detected!
Wikia is a free-to-use site that makes money from advertising. We have a modified experience for viewers using ad blockers

Wikia is not accessible if you've made further modifications. Remove the custom ad blocker rule(s) and the page will load as expected.