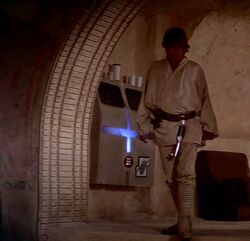 "Hey! We don't serve their kind here!"
Droid detectors were devices that detected the presence of droids. The bartender Wuher had one such detector installed in Chalmun's Cantina.[1] Malfunctioning when Luke Skywalker visited the cantina with the droids C-3PO and R2-D2, it did not alert him to their entry.[2]
Appearances
Edit
Notes and references
Edit
Ad blocker interference detected!
Wikia is a free-to-use site that makes money from advertising. We have a modified experience for viewers using ad blockers

Wikia is not accessible if you've made further modifications. Remove the custom ad blocker rule(s) and the page will load as expected.