Droids Over Iego is a single-player online flash player game found on StarWars.com. It was posted on StarWars.com as a supplement to the Star Wars: The Clone Wars webcomic Hunting the Hunters (Part III).
Description
Edit
A distress call has been sent from the cluttered Moons of Iego and Obi-Wan has sent you to investigate in a V-19 Torrent fighter.
Your mission is to blast through enemy forces to determine who is behind this operation. Be cautious of floating debris armed with missile launchers, blaster cannons and deadly laser webs.
Appearances
Edit
Characters
Droid models
Events
Locations
Organizations and titles
Sentient species
Human (Appears in cutscene(s))
Vehicles and vessels
Weapons and technology
Miscellanea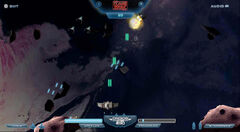 External links
Edit
Ad blocker interference detected!
Wikia is a free-to-use site that makes money from advertising. We have a modified experience for viewers using ad blockers

Wikia is not accessible if you've made further modifications. Remove the custom ad blocker rule(s) and the page will load as expected.