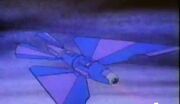 A drone was an unmanned aircraft. Governor Koong of Tawntoom Province on the planet Roon used drones to attack his enemies. In one skirmish, Koong sent a pair of drones after the escaped prisoners Mungo Baobab, Auren Yomm, C-3PO, Lin-D, and R2-D2, who had fled in a lifeboat. Although the drones destroyed the lifeboat's motor and sail, incapacitating Lin-D in the process, Baobab shot them down with the boat's laser cannon.
Appearances
Edit
Ad blocker interference detected!
Wikia is a free-to-use site that makes money from advertising. We have a modified experience for viewers using ad blockers

Wikia is not accessible if you've made further modifications. Remove the custom ad blocker rule(s) and the page will load as expected.