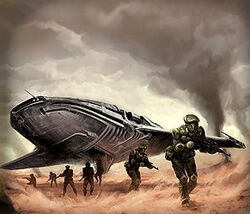 A dropship (or drop ship), also known as a drop shuttle, was any craft designed to transport infantry, droids, supplies, or vehicles to the surface of a planet, either for peaceful purposes or in the case of planetary assaults. Dropships were commonly deployed from starships capable of atmospheric flight or landing. Most dropships lacked hyperdrives and boasted relatively few armaments or defenses.
Appearances
Edit
Ad blocker interference detected!
Wikia is a free-to-use site that makes money from advertising. We have a modified experience for viewers using ad blockers

Wikia is not accessible if you've made further modifications. Remove the custom ad blocker rule(s) and the page will load as expected.