Du Mahn
Talk

0
103,582pages on
this wiki
Du Mahn
Biographical information
Died
Physical description
Species
Gender
Eye color
Skin color

Fair[1]

Chronological and political information
Era(s)
Affiliation
Du Mahn was a female Human Jedi Master serving the Jedi Order and the Galactic Republic during the final decades of the Republic Classic era. Assigned to the Order's training facility on Bogden 3 during the Clone Wars, Master Mahn was a victim of the initial execution of Contingency Order 66.
Biography
Edit
A Force-sensitive Human, Mahn was trained in the ways of the Force and eventually attained the rank of Jedi Master. Wielding a green-bladed lightsaber, Master Mahn was appointed as a Jedi instructor at the Coruscant Jedi Temple and oversaw the rearing of the Order's youngest Initiates. When the Clone Wars erupted between the Galactic Republic and the Confederacy of Independent Systems, Master Mahn was assigned to protect the Soaring Hawkbat Clan. As of 19 BBY, Master Mahn had been stationed on Bogden 3 with the Hawkbats, living at the training facility there.[1]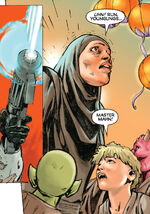 Due back on Coruscant, Master Mahn's transport was delayed when the Confederacy attacked the capitol. Advised by Grand Master Yoda that they should await another shuttle, Master Mahn and her charges graciously welcomed Masters K'Kruhk and Sian Jeisel when they arrived on planet to make repairs. Entertaining the Jedi Generals and their clone troopers, Master Mahn and the Hawkbats threw a large feast in welcome of their comrades. When the feast concluded, the clone troopers that had accompanied the Generals to the world received Contingency Order 66 from the Office of the Supreme Chancellor.[1]
This order effectively disbanded the Jedi Order, instructing the clones to open fire on all Jedi. As the clones dutifully took aim at the younglings, the Jedi Masters sprang into action. Master Mahn urged her students to flee, deflecting all incoming fire as K'kruhk, Jeisel, and Padawan Chase Piru defended they younglings. As she attempted to cover the Initiates, Master Mahn was shot down by the troopers, dying amidst the Hawkbats. Despite her death, the other Masters successfully evacuated many of the students, taking them offworld and finding refuge on an uncharted planet.[1]
Appearances
Edit
Notes and references
Edit
External links
Edit
 Du Mahn in The Completely Unofficial Star Wars Encyclopedia (backup link on Archive.org)