"Gongadan!"
―Dug farewell meaning "Don't trip on your way out!"
Dug was the native language of the Dug species from the planet Malastare.
As Dugs were a subservient species to the Grans, Dug language was not as widely used as Dugs would like to be since the Gran language was usually preferred.
Although many Dugs were forced to learn Gran, most of them decided not to learn Basic, hoping to force others to learn Dug language, thus acknowledging their society.
Known words
Edit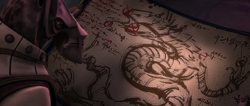 Asyui-ln ("not")
Chicka ("this")
Dai ("yours")
Etchoota! ("What's your problem?")[1]
Gongadan! ("Don't trip on your way out!" used as an aggressive farewell)[1]
Poodoo ("fodder")
Alec ("him")
Alen ("she")
Speden ("speeder")
slimo ( slimeball )
Yoka (you)
to (are)
oda (scum)
chouwa (again)
Notable non-native speakers of Dug
Edit
Appearances
Edit
Notes and references
Edit
Ad blocker interference detected!
Wikia is a free-to-use site that makes money from advertising. We have a modified experience for viewers using ad blockers

Wikia is not accessible if you've made further modifications. Remove the custom ad blocker rule(s) and the page will load as expected.