An electrostaff was weapon used by the the Dug cavaliers of Malastare during the Clone Wars.
Description
Edit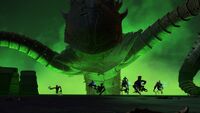 The electrostaff could fold out its end like an umbrella when in use, producing an electrical charge that could harm both droids and living creatures.
They were used at the Battle of Malastare against the units of the Separatist Droid Army to various degrees of effectiveness.
Appearances
Edit