The Dynamic-class freighter was a light freighter class used by the Republic Navy during the Mandalorian Wars.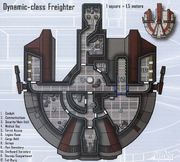 The Dynamic-class was built by a subsidiary of Core Galaxy Systems, one vessel at a time. This made them rare compared with other freighter classes.[1]
At least one of them was present in the Republic fleet that gathered in the Ralltiir system in 3963 BBY.[8] Another was seen in the skies above Taris during the Mandalorian invasion of Taris.[9]
The freighter Ebon Hawk was also of this class, coming from the Republic world of Transel. However, it underwent heavy modifications while in Davik Kang's service and probably others, which included a more powerful hyperdrive, so it is possible that not all characteristics of the Ebon Hawk applied to other ships of its class as well.
Appearances
Edit
Notes and references
Edit
↑  Ebon Hawk in the Databank (content now obsolete; backup link on Archive.org)
↑ Starships of the Galaxy, Saga Edition - This is presumably in credits circa 4,000 BBY, but is not explicitly stated.
↑ 4.0 4.1 Calculated directly from Starships of the Galaxy, Saga Edition deckplans.
↑ Assuming the maximum sustainable number of beings aboard is 8, based on Starships of the Galaxy, Saga Edition, the passenger limit would be 4 if the ship was manned by two optional gunners in addition to the standard pilot and co-pilot.