EG-6 power droid
Talk

13
110,085pages on
this wiki
EG-6 power droid
Production information
Homeworld
Manufacturer
Model

EG-6 power droid

Class
Technical specifications
Height
Armament

None

Chronological and political information
Era(s)
The EG-6 series by Veril Line Systems was an ambulatory power droid.
Characteristics
Edit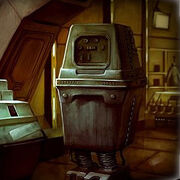 Outfitted with only a low AI, EG-6's only function was to provide energy to diverse machinery, starships and other vehicles. Most of the EG-6's interior was filled out by its fusion generators. Its hull was heavily armored.
There were two heavy power plug-in sockets on the right side of the EG-6's body and a standard power plug-in socket on the lower half of its front. There was also a light power plug-in socket in the face-like unit on the upper half of its front side, that also contained a system diagnostic package and visual sensors as well as an acoustic signaler.
The system diagnostic package included a spectrometer and infrared-, sonar- and x-ray-scanners and was used for equipment checks. Although very rarely used, the EG-6 had a manipulator arm that was hidden under a panel on its lower front side.
The EG-6 was found nearly everywhere throughout the galaxy. Its follow-up model, the S9-series heavy power droid, a larger and more powerful version of the EG-6, was Veril Line Systems' answer to the GNK power droid made by Industrial Automaton. The EG-6 that was owned by the Lars family on Tatooine was several hundred standard years old.[2]
Behind the scenes
Edit
A different version of the EG-6 can be seen in The Phantom Menace, and it was often mistaken for the GNK power droid.
Appearances
Edit
Notes and references
Edit