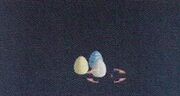 Easter eggs were something found in a gigantic ore pipe on Mount Merakan when Nym flew inside it. It is unknown how they survived the great heat created inside these pipes, or indeed what kind of animal laid them.
Behind the scenes
Edit
The name and titular objects are based on a practice done on Easter Sunday by Christians, which is creating colored eggs in celebration of the resurrection of Jesus Christ. Likewise, two types existed: One involved actual eggs that had their shells painted, and others were made of plastic and could be opened to find a treat inside, the latter also being the inspiration for the video game term.
Appearances
Edit
Ad blocker interference detected!
Wikia is a free-to-use site that makes money from advertising. We have a modified experience for viewers using ad blockers

Wikia is not accessible if you've made further modifications. Remove the custom ad blocker rule(s) and the page will load as expected.