The Ecliptic was a Galactic Republic warship under the command of Admiral Saul Karath, during the Mandalorian Wars. The Ecliptic was at the frontline during the Battle of Serroco.
Behind the scenes
Edit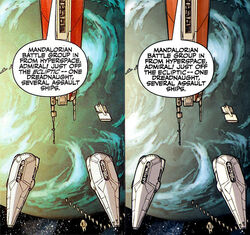 "Before it winds up wrong on someone's website, the word "ecliptic" does not refer to a spaceship by that name, Rand or otherwise. They're referring to the plane of the ecliptic, which is defined by Serroco's star and the orbit of the planet around it."
The Ecliptic was first mentioned in Knights of the Old Republic 15: Days of Fear, Part 3. Although author John Jackson Miller intended for the dialogue to refer to "ecliptic" as an astronomical term,[1] the word was italicized in the finished issue, leading some readers to conclude it was a starship. Additionally, all letters in the issue were capitalized, leading to further ambiguity regarding the question of whether or not the word was used as a proper noun. Later, the word "ecliptic" was no longer italicized when the Days of Fear arc was reprinted in Star Wars: Knights of the Old Republic: Days of Fear, Nights of Anger, corresponding with Miller's original intention. However, this change was later contradicted by The Complete Star Wars Encyclopedia, where it received an entry, thus canonizing the Ecliptic's existence as a starship.
Notes and references
Edit
External links
Edit