Eeth Koth's lightsaber
Talk

1
107,693pages on
this wiki
Eeth Koth's lightsaber
Production information
Type

Single bladed lightsaber

Culture
Creator
Owners
Physical and technical specifications
Blade color
Usage and history
Purpose
Era(s)
Affiliation
Eeth Koth's lightsaber was a lightsaber owned by Jedi Master Eeth Koth during the warning years of the Republic.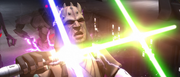 Eeth Koth was part of the task force led by Mace Windu, sent to Geonosis to help Jedi Knight Obi-Wan Kenobi and his Padawan Anakin Skywalker. He wielded his lightsaber during the First Battle of Geonosis against the Separatist Droid Army.
When Master Koth's cruiser was boarded by General Grievous he engaged Grievous in a lightsaber duel, which resulted in his capture, but Koth was skilled enough that he was able to hold Grievous off long enough, even though he had taken a blaster shot to one arm.
Appearances
Edit