Electro magnetic pulse grenade
Talk

0
110,032pages on
this wiki
EMP grenade
Production information
Manufacturer
Type
Cost

500 credits

Physical and technical specifications
Weight

0.5 kg

Usage and history
Purpose

Anti-droid use

Era(s)
Affiliation
The Electro Magnetic Pulse grenade, also known as an EMP grenade, ECD, Electrostatic Charge Detonator, or lesser known as droid poppers by the Republic clone troopers, was an anti-droid weapon often used by the Grand Army of the Republic—specifically by the Army's elite soldiers, the clone commandos—during the Clone Wars against battle droid opponents.
Characteristics
Edit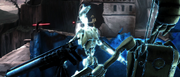 Like any grenade, they were activated and thrown into the vicinity of nearby droids in order to immobilize them. They were also called "Droid Poppers" in the Clone Wars. In a similar effect to the EMP launcher, the detonation resulted in a shell of disruptive electrical energy that damaged and disabled electronic systems, however, its effectiveness diminished with the distance from the blast area.
As with the EMP Launcher, it was not quite as effective against organics, but was still capable of electrocuting (or stunning) lifeforms caught in the blast. Detonations also temporarily disrupted the sensors and visual displays of a clone trooper's helmet systems for a few seconds, somewhat similar to the effects of the reverse-polarity pulse grenade. Since the clone commandos had a more electronic helmet, the effect on them would last closer to an hour than just a few seconds.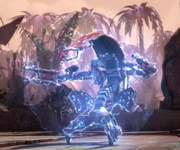 EMP Grenades, when rolled at just the right speed, could bypass the shield of a Droideka, making them effective where blasters were not.
Appearances
Edit