Empire's End collects both issues from the Empire's End series of comics. It was released September 10, 1997.
Publisher's summary
Edit
Emperor Palpatine has a new weapon—one that can annihilate a planet. But he's not targeting a planet—he's targeting the future of the Jedi, Leia's children. It looks like a hopeless situation for Luke Skywalker, who has the critical task of protecting the children. But it's not the first time Luke has found hope where none existed. The finale to the Dark Empire trilogy is collected here.
Collected Issues
Edit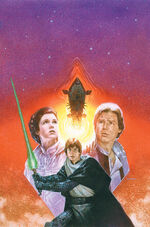 Notes and references
Edit
Ad blocker interference detected!
Wikia is a free-to-use site that makes money from advertising. We have a modified experience for viewers using ad blockers

Wikia is not accessible if you've made further modifications. Remove the custom ad blocker rule(s) and the page will load as expected.