Empire 17: To the Last Man, Part 2 is the seventeenth issue in the Star Wars: Empire series of comics. It was published on March 3, 2004 by Dark Horse Comics.
Publisher's summary
Edit
Imperial Lt. Janek Sunber wanted to see action, and now his wish has come true--in spades! Sunber's infantry regiment on the jungle world of Maridun is cut off from the rest of the Empire. Their communications have been destroyed, and their way out of the jungle is blocked by thousands of hostile native Amanin. Hopelessly out-numbered, they must choose between combat or surrender--but either decision may mean death!
Empire takes a look at the Star Wars galaxy from the point of view of the Imperials in this action-packed, three-issue arc!
Plot summary
Edit
Appearances
Edit
Characters
Events
Locations
Organizations and titles
Sentient species
Vehicles and vessels
Weapons and technology
Collections
Edit
External links
Edit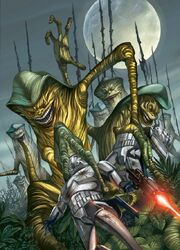 Ad blocker interference detected!
Wikia is a free-to-use site that makes money from advertising. We have a modified experience for viewers using ad blockers

Wikia is not accessible if you've made further modifications. Remove the custom ad blocker rule(s) and the page will load as expected.