Empire 2: Betrayal, Part 2 is the second issue in the Star Wars: Empire series of comics. It was published on October 2, 2002 by Dark Horse Comics.
Publisher's summary
Edit
The plot against the Emperor and Darth Vader proceeds, but as the conspirators worry about whether either of their targets suspect—and how much they might suspect—they also begin to wonder about each other. Can the cold-blooded killer Gauer be trusted? What about the ambitious Imperial Officer Dezsetes? And who can tell what goes on behind the blank eyes of the cybernetically enhanced Grand Moff Trachta? In the midst of the plots and counter plots, word comes of a new threat—a new, unknown Jedi has emerged to challenge Vader…
Plot summary
Edit
Appearances
Edit
Characters
Events
Locations
Organizations and titles
Sentient species
Vehicles and vessels
Weapons and technology
Collected in
Edit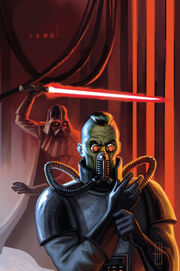 Ad blocker interference detected!
Wikia is a free-to-use site that makes money from advertising. We have a modified experience for viewers using ad blockers

Wikia is not accessible if you've made further modifications. Remove the custom ad blocker rule(s) and the page will load as expected.