Endor Holocaust
Talk

102
122,634pages on
this wiki
The Endor Holocaust was a theory put forward by Imperial propaganda agents after the Battle of Endor. It was theorized that after the destruction of the second Death Star over Endor in 4 ABY, the moon and its inhabitants were devastated by falling debris.[1] However, the moon and its primary sentient species, the Ewoks, were both still in good health long after the Death Star's destruction, and the Alliance of Free Planets established a base on the moon.[2] Much of the debris of the superweapon was sent through a hyperspace wormhole that briefly opened up when the Death Star's hyperdrive regulator was destroyed. This matter was scattered across the galaxy,[3] while the Alliance to Restore the Republic put much effort into stopping the remaining debris from colliding with the moon.[4][5]
An Imperial veteran of the Battle of Endor spoke of the supposed destruction of the forest moon, telling many that billions of tons of metal rained down on the moon and wiped out the Ewoks. His claims were countered by others, though, who claimed that it was simply myth. According to the man's fellow cantina patrons, most of the Death Star's mass was obliterated in the explosion, while the Rebel Alliance used tractor beams to ensure the rest did not damage the world.[6]
At least one Imperial Star Destroyer did crash onto the moon's surface, though,[7] and some debris was reported to have caused minor damage to Ewok habitats.[8][9]
Behind the scenes
Edit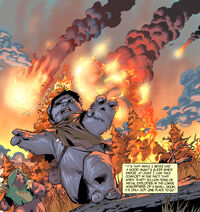 The Endor Holocaust theory was first put forward by Curtis Saxton on his Star Wars Technical Commentaries fansite. Saxton claims that it is scientifically inevitable for the holocaust to happen, although it has never been identified as happening in any canon source. Some sources, such as X-Wing: Wedge's Gamble and the comic book Apocalypse Endor, mention the theory, although reports in these sources are either propaganda or myth.
In Star Wars Insider 76, a question and answer column written by Pablo Hidalgo states that the Ewoks were not all killed after the Battle of Endor. He refers to events described in the juvenile novel The Glove of Darth Vader, where debris from the second Death Star's destruction, including Darth Vader's glove, are sucked through a wormhole and taken through hyperspace to the other end of the galaxy (and, therefore, avoid landing on the forest moon). Hidalgo also acknowledges the environmental consequences expected from the destruction of a planetoid-sized battle station so close to a habitable moon, but claims that the laws of physics can be "thrown out the window" for the sake of a story which George Lucas intended to have a "happy ending."
The extended version of the Robot Chicken: Star Wars Episode II special features a skit which humorously depicts the event.
Appearances
Edit
External links
Edit
Notes and references
Edit