Energizer
Talk

0
109,636pages on
this wiki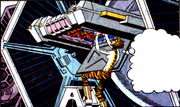 "These ion engines has always lent themselves beautifully to sabotage! Nudge one energizer out of alignment... and the recharge system becomes a time bomb!"
An energizer was a starship component necessary for the recharging systems of P-s4 twin ion engines used in certain spacecraft such as the TIE/LN starfighter.
Circa 0 ABY, Anduvil destroyed the Imperial Garrison Base in Mos Eisley, Tatooine, by infiltrating the hangar bay and dealigning the energizer of a TIE fighter's ion engine, causing an enormous blast.
Behind the scenes
Edit
There were some slight changes to Anduvil's dialogue in the sabotage scene between Tatooine Sojourn's initial release in 1979 and the republished color version. In the original release, Anduvil specifically mentioned the energizer, though this mention was omitted in the rereleased colored versions.
Appearances
Edit