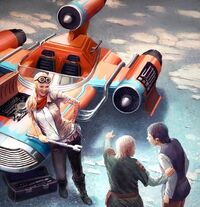 An engine, drive, or thruster, was a machine specially designed to propel vehicles through the gravity of a planet, navigate the vacuum of space or launch a spaceship into hyperspace for interstellar voyage.
The technologies of engines that allowed this three categories of advanced travel to exist were:
Repulsorlift (For use in the nearby of a gravitational force and near-orbit planetary travel)
Sublight drive (For extended operations in System space or Deep space)
Hyperdrive (For interplanetary and interstellar travels)
Appearances
Edit
 Vacation on The Old Republic

'

s official website (article) (backup link) (Mentioned only)
 "All the Extras"—Shadows of the Empire Sourcebook (Mentioned only)
 "Garbage Run"—Shadows of the Empire Planets Guide (Mentioned only)
Ad blocker interference detected!
Wikia is a free-to-use site that makes money from advertising. We have a modified experience for viewers using ad blockers

Wikia is not accessible if you've made further modifications. Remove the custom ad blocker rule(s) and the page will load as expected.