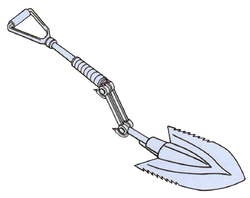 An entrenching tool was a multipurpose device that could be used as a short shovel, a pickaxe, or an improvised hammer. Entrenching tools were employed by soldiers for thousands of years. In a pinch, one could use the durable tool as an unbalanced but effective weapon. One typically cost around fifty credits and weighed about a kilogram.
Ad blocker interference detected!
Wikia is a free-to-use site that makes money from advertising. We have a modified experience for viewers using ad blockers

Wikia is not accessible if you've made further modifications. Remove the custom ad blocker rule(s) and the page will load as expected.