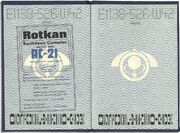 The Euclidean Complex was located in Rotkan. It was divided in sectors such as AC-20, AC-21 and AC-25. Visitors to the Euclidean Complex had to have visas stamped on their Intergalactic Passports in order to enter Rotkan and were to be accompanied by guides at all times, and in the case of those entering through AC-20 to AC-25, had their belongings held at entry.
Appearances
Edit
Ad blocker interference detected!
Wikia is a free-to-use site that makes money from advertising. We have a modified experience for viewers using ad blockers

Wikia is not accessible if you've made further modifications. Remove the custom ad blocker rule(s) and the page will load as expected.